Search Help
Stars PIN forgotten
If you forgot your Stars PIN, you can recover it using our Stars PIN Recovery Service, and an email with your Stars PIN will be sent to your registered email address.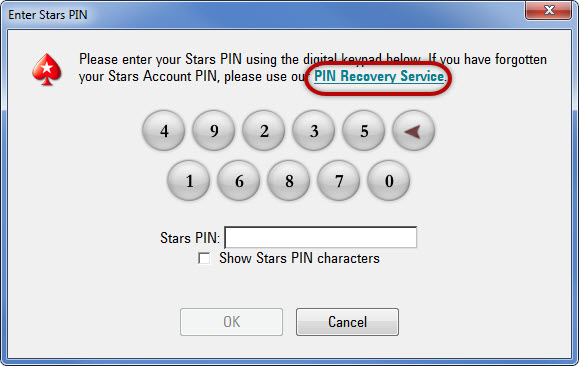 To have your Stars PIN emailed to you, follow these instructions:
Load our software on your computer.
Enter your Stars ID and password in the appropriate place.
Click on Log in.
Click on Stars PIN Recovery Service.
Your Stars PIN will be emailed to the email address associated with your Stars Account.
If the automated email we send does not appear in your inbox, it may have been filtered into a junk or spam folder. Please check these folders for an email from us. To prevent this issue reoccurring try adjusting your email accounts filter settings or add the email address our emails are coming from to your address book or contact list.
Note:
If you have your mobile phone validated in your account, your Stars PIN will be sent via SMS.
If you cannot reset your Stars PIN, we'd need you to answer a few questions that only the account holder would know:
What is your registered date of birth?
What is your registered phone number?
Please mention a previous deposit/withdrawal method that you have used on your Stars Account.
Provide the Stars ID of a player to whom you have transferred funds or that has transferred funds to you.
Any additional information that may help us verify ownership (e.g. previously registered mailing/email address, approximate current balance, last login, an image on your Stars Account).
You can contact us via our Contact Support form by going to:
Mobile app

Tap on the menu (Android) or More (iOS) then:

Settings & Tools
Support
Contact Support

If you are using the PokerStars Next Gen app:

Load the app on your mobile device.
Tap on the Account icon to launch the Account Panel.
Help
Contact Support
Desktop software

Help
Contact Us
If you feel you are unable to remember the answers to all of the above questions, then send us a clear digital photograph of your government-issued photo identification (passport, driver's license or national ID card), ensuring that the details are visible.
Feedback
Did this article answer your question?